Retinal photonic imaging (OCT/SLO)
The research group's breakthrough in OCT (optical coherence tomography) giving further improvements in resolution and imaging speed simultaneously should lead to a high-level eye fundus diagnostic modality with ability to detect signs of important sight threatening diseases appearing on fundi, aiming to deliver higher-level and more effective treatments.
The group has integrated Canon's precision technologies (optical and control systems) and the state of the art technologies in the OCT community to develop a prototype with a lateral resolution of 5μm.
By imaging for both normal and pathological eyes, it has also gained the ability to detect initial vascular changes associated with diabetic retinopathy, which is one of the most getting-prevalent diseases.
Hereafter, the group will develop additional technologies and systems including adaptive error-correction, tracking ocular movements for fixation, increasing speed, lateral resolution and contrast of the images, and producing more functional prototypes. Demonstrations of its superiority via clinical research will be expected.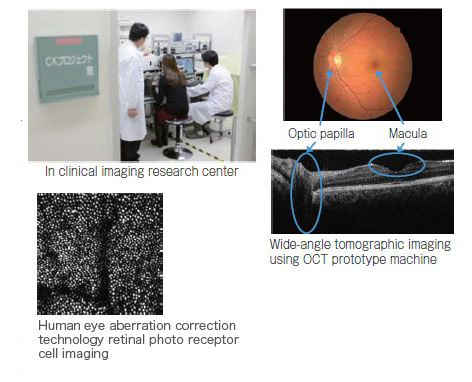 Group
| | | |
| --- | --- | --- |
| Nagahisa Yoshimura | Graduate School of Medicine, Professor | [Laboratory] |
| Hanako Ikeda | Kyoto University Hospital, Associate Professor | [Laboratory] |
| Tadamichi Akagi | Kyoto University Hospital, Senior Lecturer | [Laboratory] |
| Sotaro Ooto | Kyoto University Hospital, Assistant Professor | [Laboratory] |
| Tatsunori Sakamoto | Kyoto University Hospital, Program-Specific Assistant Professor | [Laboratory] |
| Akihito Uji | Kyoto University Hospital, Program-Specific Assistant Professor | [Laboratory] |
| Akio Oishi | Kyoto University Hospital, Program-Specific Assistant Professor | [Laboratory] |
| Satomi Hirooka | Kyoto University Hospital, Special Medical Technical Staff | [Laboratory] |
| Akiko Hirata | Graduate School of Medicine, Assistant Research Staff | [Laboratory] |
| Sawako Ando | Graduate School of Medicine, Assistant Research Staff | [Laboratory] |