System and Bases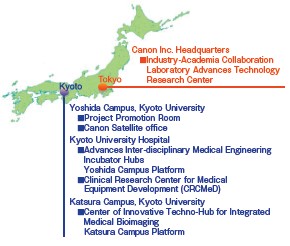 The project cross-networks Kyoto University's world-leading research fields to assemble a dream team, which, in partnership with Canon, is developing next-generation medical treatment and diagnostic bio-imaging technology and research oriented toward commercialization. Alongside the Advanced Interdisciplinary Medical Engineering Incubator Hubs established at Kyoto University's Yoshida and Katsura campuses, a joint laboratory has been established at Canon's headquarters, which researchers from both Kyoto University and Canon who are involved in the project can use as a research beacon
to interactively oversee dynamic joint research. As the super-aging society becomes an increasingly important issue, particularly in developed countries, this project is making a contribution by creating innovative treatment and diagnostic devices with integrated molecular probes and hospital-based early-detection systems, thus improving QOL for people everywhere.
Hospital area (Headquarters, Graduate School of Engineering and Medicine,
and Hospital)
Within the office of the Graduate School of Engineering we have established both an academic affairs agency and a Canon satellite office dedicated to the project, thus strengthening the supporting infrastructure for research. Center of Innovative Techno-Hub for Integrated Medical Bioimaging-Yoshida Campus has also been established within graduate school of medicine as a base of the project. This project base includes laboratories for animal MRI and ultrasound diagnostic devices, as well as an OCT clinical research unit in the University Hospital.
To provide ancillary functions to the Yoshida/Hospital base, Center of Innovative Techno-Hub for Integrated Medical Bioimaging-Katsura Campus has been established within the Katsura Int'tech center. The Katsura base is comprised of Advanced Biomedical Engineering Research Unit, and an integrated education facility as well as a Canon laboratory. Departments of Chemical Science and Technology and Electrical and Electronic Engineering taking part in the project, we have established new laboratories for the synthesis of molecular probes and for development of atomic magnetometer, which are equipped with the latest experimental facilities. The laboratories for biosynthesis and molecular device analysis have also been set up at the JST innovation plaza associated with the Katsura campus.
Canon Shimomaruko Headquarters
We have also outfitted laboratorires specifically for the project, as well as a joint university-industry laboratory in the advanced technology research buildings of our partner, Canon Inc. in Tokyo. These are used as bases for directing research into OCT, ultrasound diagnostic devices, atomic magnetometer, molecular probes and computer aided diagnosis softwares; these are used for holding meetings among researchers i.e. Canon, Kyoto University and other universities and institutes who cooperate with the project.
Yoshida Campus, Kyoto University
Int'tech Center,
Katsura Campus, Kyoto University




Kyoto University Hospital
Canon Inc. Shimomaruko Headquarters